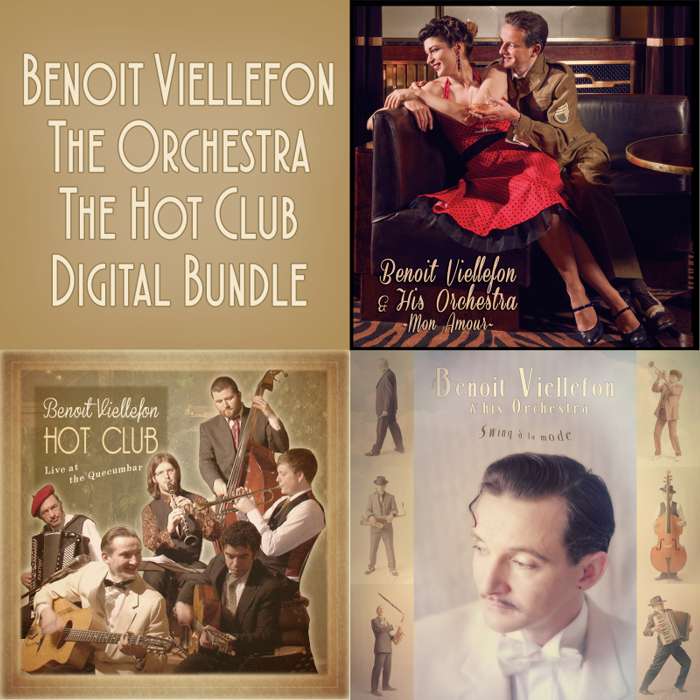 This bundle includes the compete discography of Benoit Viellefon (3 albums).
(2014) Benoit Viellefon & His Orchestra - "Mon Amour"
(2012) Benoit Viellefon Hot Club - "Live at the Quecumbar"
(2010) Benoit Viellefon & His Orchestra - "Swing a la mode"
Coming soon:
(2016) Benoit Viellefon trio - "Out with the wrong women"
(2017) Benoit Viellefon Hot Club - "Paris 1936 / London 20:16"
Please join the mailing list if you are interested in getting the next two album before their official release.
Complete Discography Digital Bundle (Download 3 albums)
3 albums from Benoit Viellefon
This bundle also includes: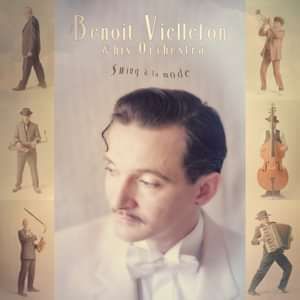 The Orchestra - "Swing à la mode" (MP3)
1st Album - 9 tracks - © 2010
PRESS REVIEWS:
"A very distinctive French sound with a nostalgic, happy and romantic feel" - Royal Albert Hall
"...Something very beautiful: Benoit Viellefon and his Orchestra combine French chanson, musette with swing. A very addictive mixture. "
 - Nathan Nörgel - Wasser-Prada (Germany)
Volupté is a relatively new venue tucked away neatly among the corporate corridors of Chancery Lane. The layout of the subterranean restaurant is cosy yet ample. Our reservation had requested our attire be smart/glamorous and we take inspiration from the 1920s-40s, duly I accessorised with heels and red lippy, for this was indeed a burlesque venue and we were here to see Benoit Viellefon and his 20s/30s inspired jazz orchestra. The sumptuous décor had artwork on the walls of glamorous icons from the period and the grand piano, topped by a lamp rich with dangly crystals was very Marlene Dietrich.
The DJ was playing the Jackson 5 which seemed somewhat unsympathetic towards the night's entertainment in store; however a vodka Martini helped us overlook this blip.
The band were thankfully also dressed to impress; Benoit cut a neat petite silhouette in his suit and cravat, Geoffrey Threadgold, clad in braces at double bass and Hugo Simmonds, suited and booted at the piano had the most genuine short back and sides, Brylcreemed to perfection. They struck up with a couple of rousing jazz favourites; All of Me swinging fast with stride piano overlapping the bass made for an authentic wall of sound enhanced incidentally by the slightly off kilter tuning of the keyboard. Benoit's soft voice just cut over the accompaniment; his Reinhardt style guitar chopping the chords complimented the fine percussive accompaniment of Mark Huggett at the drums. Peter Horsfall too created space for his trumpet solos around the ensemble, blasting out some fine cascades and stabs. A band favourite was George Bruns' I Wan'na Be Like You, the Disney classic clearly a winner with the audience. Benoit encouraged interaction and even invited an excited young lady up to sing a chorus with him and although they had not met before they gelled beautifully. Other songs took a more romantic and distinctly Parisian angle, Sous le ciel de Paris was quite striking and perfect in our setting, it all felt rather filmic.
Our waiter for the evening ensured our courses arrived timely and our glasses were topped up. We enjoyed the soup, fish cakes and duck between us along with a fine bottle of red. In the interval there were two burlesque turns by Vicous Delicious a svelte lady who executed with finesse a routine that involved bursting balloons on her person to expose almost everything beneath. Her second dance incorporated two enormous feathered fans and her wonderfully expressive face provided a carry on style comedy atmosphere (although she could probably have done with a little more room to strut her stuff.) We ordered our puddings and the band returned.
Caravan provided the perfect vehicle for their Latin/swing dexterity, composed by Juan Tizol and first performed by Duke Ellington in 1937 it sat solidly inside their remit. Mark Huggett's drumming was superb and could really have benefited from a longer solo than just the first two A sections. The rhythms were tight and hot. The show closed with the Russian gypsy song Black Eyes the tempo rose from a stately walk to break neck speed with the assistance of claps from the audience.
Benoit Viellefon and his small orchestra definitely reside within the cabaret end of jazz but their combined individual skill almost makes them a crossover ensemble. Volupté is intimate and homely and is attracting increasingly well known names in jazz notably Anthony Strong. I think they could well go some way to filling the void left by the closure of Pizza on the Park. 
- Jeanie Barton - London Jazz
Official page: http://benoitandhisorchestra.com/uk/album-swing-a-la-mode.html
This bundle also includes: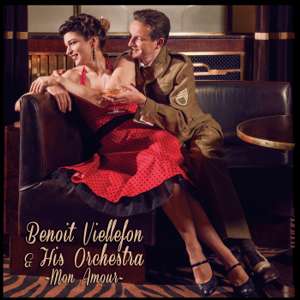 The Orchestra "Mon Amour" (MP3)
3rd album - 14 tracks - © 2014
In the early 2000s, the swinging music of the 1920s, 1930s and 1940's was not considered fashionable and was all but forgotten by record companies and the world of show business.
Since then, away from commercial music, from the fakery and manufactured artists of contemporary pop music, a revival has taken place across the world. The music, fashion, dance steps and lifestyle of this bygone era have captured the imagination of a new generation searching for a real experience. Retro clubs, period dance events, vintage fashion and swing music has spread just about everywhere in Europe and the USA and, it is no exaggeration to say that at the heart of the London revival scene is Benoit Viellefon & His Orchestra. And their growing fan base demonstrates time-and-time-again the public's love for this music and lifestyle.
Presently, after five years and over 600 concerts, Benoit Viellefon & his Orchestra are proud to present their landmark album Mon Amour. The album was recorded in January 2014 by extraordinary sound engineer Nick Taylor, at London's Porcupine Studios, a family run studio that has been a second home to successive generations of legendary British jazz artists since the early 1960s. Featuring a selection of tunes from the 1920s to the early 1950s, specifically the songbooks of the USA, England, and France, the album is an exciting look at the music of a time when dancing and entertainment were key, arguably show-business' golden era!
At the core of the album is the admirable rhythm section of drummer Gaspar Sena, bassist Geoffrey Threadgold and pianist Joe Webb, never failing to provide the swinging beat that drives the music and gets people moving on the dance floor. With the assistance of Sena, Webb worked tirelessly orchestrating the music. Brought together tastefully and stylishly, the arrangements are the Orchestra's chance to put their stamp on the history of this music. Executing the horn arrangements and weighing in with inventive and swinging solos are the horn section. Talented reedsman Dave Shulman and trumpeter Pete Horsfall are founding members of the Orchestra. Their contribution is complemented by the tenor saxophone work of Duncan Hemstock and the tight section playing of saxophonist Fraser Smith and trumpeter Evan Clegg.
Captured perfectly on the album are Benoit's charm and personality, facets that tie the band together and give them a unique identity. In addition to contributing three original compositions, he provides both the quirky lead vocals (complete with French accent) and stomping rhythm guitar throughout. Making their debut with the Orchestra are Gabrielle Ducomble, an outstanding vocalist from Belgium now working in London, and talented actress and singer, Anna Tyrie. Their valuable contributions take the form of three duets with Benoit; title track Mon Amour sung in French by Gabrielle, the classic Cheek to Cheek, and original composition It Ain't Me both sung by Anna. Not to mention their silky harmonies on Pennies From Heaven.
Benoit Viellefon & his Orchestra have been fiercely independent in performing, producing and financing their own music. Wherever they play, they never falter in their endeavour to entertain their many audiences and to conquer each and every one of their hearts.
PRESS REVIEWS:
"These internationally acclaimed musicians are among the finest entertainers of their generation" - French Radio London
"This definitely sounds like a phenomenon worth catching live" - F.Roots magazine
Official page: http://benoitandhisorchestra.com/uk/about-theorchestra.html
This bundle also includes: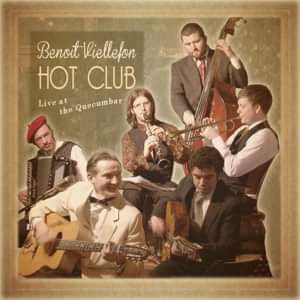 The Hot Club - "Live at the Quecumbar" (MP3)
2nd album - 16 tracks ©2012
"This is the perfect album to listen to on a late summer afternoon" - Vintage Life Magazine
"...If you missed Benoit Viellefon's festival show, you missed a treat. - We'd all be much happier if Benoit's music was the soundtrack to our lives."
 - Lauren Rodgers - Norfolk Norwich Festival 2011
"It's okay, you can keep talking…" delcares an affable Benoit at the beginning of this live recording. The man's safe in the knowledge that his band's sweet'n'sassy brand of gypsy jazz ( mixed with a whole host of other aural flavors ) will be impossible to ignore once they really get going. With a set list that includes All Of Me, Django's Minor Swing, as well as five originals written by Monsieur Viellefon himself, this record will effortlessly sweep you away on sonic gossamer wings to the happy, happy place of your choice. - Vintage Rock Magazine
Djangophile Daper dans get Battersea swinging. Benoit Viellefon is a 30-something French guitarist who resided in the UK. Viellefon is a dapper dresser – his look is that of an entertainer from the pre-rock'n'roll era( bow tie and tux )- and his sound is inedebted to the gypsy jazz that Django Reinhardt created in the 1930s Parisian clubs. His hollow body guitar rapidly strums a fluid rhythm while other instruments breathe melody into the music. Accompanying musicians include very gifted accordion and clarinet players, trumpet saxophone, double bass and guitar. Viellefon and band to to bring together a variety of pre-World War II music forms- bal musette, chanson francaise, Russian folk, even a subtle Latin American rhythm – carefully weaving the different styles together. They always keep things swinging and good humoured. Originals such as "More Money" and "My Dog Is a Gypsy" are pleasant confections while standards like "Minor Swing" and "All Of Me" are handled confidently. There's nothing new here but this live album – recorded at Battersea's music bistro Le Quecumbar ( listen and buy the CD ) - is very enjoyable. - Songlines Magazine
Official page: http://benoitandhisorchestra.com/uk/album-hotclub-live-Q.html