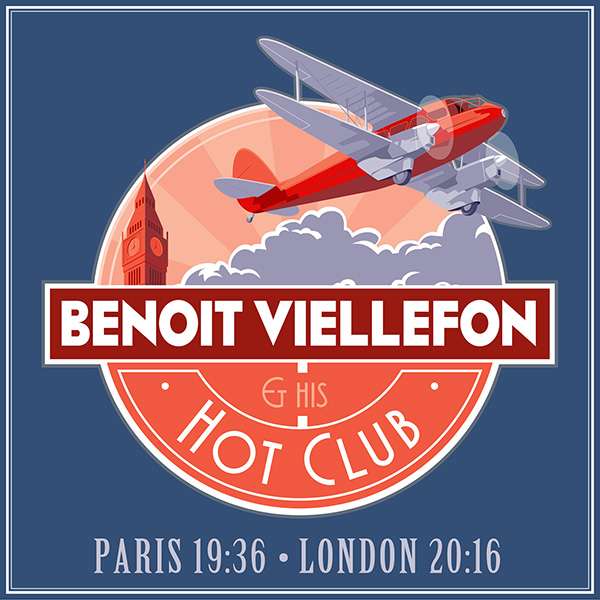 Benoit Viellefon Hot Club "Paris19:36 - London20:16" (CD limited edition)
4th album - 17 tracks Digipak with 4page booklet - © 2017
After 9 years on the circuit and about 1300 concerts, I have finally recorded the Hot Club playing 1930-40's Hot Swing and Gypsy Jazz. The band being a firm favourite on the British dance scene, (Balboa, Shag, Fox Trot, Lindy Hop), we were under strong pressure to release an album. Done! The birth was difficult but the baby is cute, and the music is excellent apparently... BUY ONE: You'll keep us going & keep our music alive!
We have tried to replicate that raw energy of the live shows in the studio. Without alcohol and women, it was bound to be a real challenge but somehow it happened. Only traditional recording techniques were used, with all the musicians recording live in the same room through a couple of Neuman condenser microphones. We recorded a total 22 songs over 3 days, with most of the band's regular musicians, so it reflects the ever flexible line up, with sometimes piano or guitar, and violin or trumpet plus inevitably double bass, and myself on guitar and vocals. There are also couple of guest singers too, you will be surprised!
This album, according to the fans and critics who got to listen to it before the official release, is our finest recording to date...
Official website and live videos: http://www.benoitandhisorchestra.com/uk/about-thehotclub.html