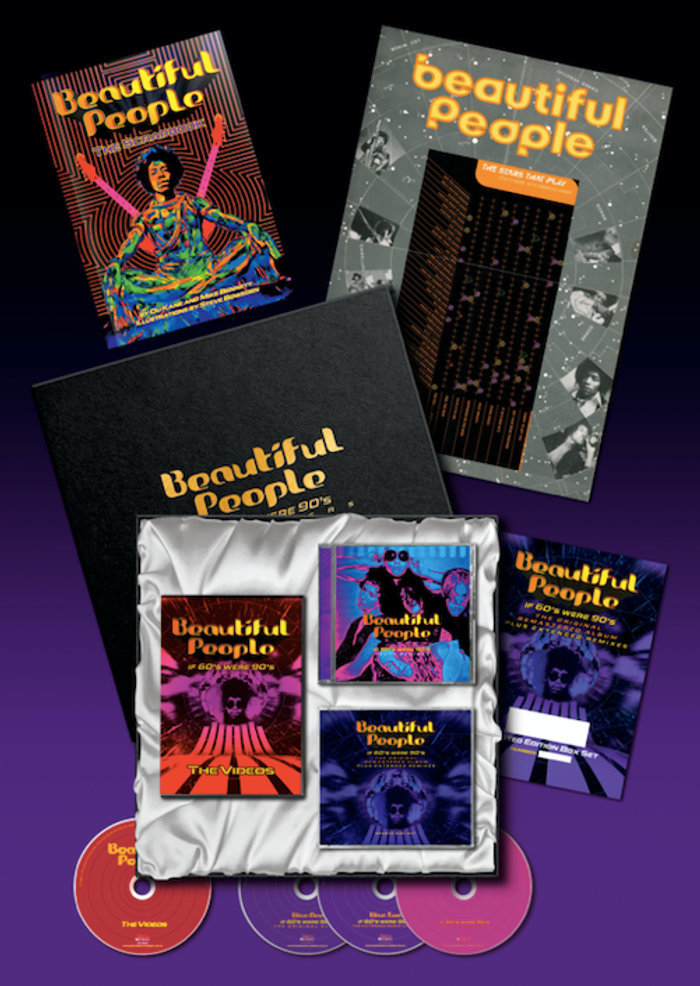 Beautiful People Deluxe Box Set
Beautiful People "If 60's Were 90's" Box Set Consisting of over 50 sampled Guitar Riffs, Lead Vocals & Word Raps From Guitar God Jimi Hendrix
Commissioned by legendary record producer and former creative head of the Jimi Hendrix Estate Alan Douglas in 1990, the cleverly titled "If 60's Were 90's" by the band Beautiful People, is a truly unique and seminal record.
"Beautiful People are a bunch of movers and shakers from London's Acid House Scene, who have a highly developed fascination with the music of Jimi Hendrix, emphatically not a 'Tribute' band in the style of the Bootleg Beatles or the Australian Doors, Beautiful People have used sampling technology to virtually recruit Hendrix into the groups line up." - David Sinclair, Billboard Magazine
Consisting of over fifty guitar riffs, vocal cut-outs, out-take lead breaks, and word raps from guitar god Jimi Hendrix, "If '60s Were 90's" also features spoken steals from Brian Jones of the Rolling Stones, Experience drummer Mitch Mitchell, 60's blues guitarist Mike Bloomfield and a party called the "Milky Way Express" that included the one and only Frank Zappa. Like some Groovy Psychedelic time-machine cruising the Hendrixphere, Beautiful People pluck from over 30 different Hendrix recordings, writing nine new songs creating an... "Ambient Dance Dream Tribute" (Kris Needs, NME)... of ... "Super Psychedelic Baggy Indie dance with Orb like overtones.." (Ian McCan, VOX) creating a sound that arguably helped kick off the rock dance crossover phenomenon of the early '90s, bringing guitars back into dance music while still retaining the psychedelic rock majesty of one of the greatest guitarists of the 20th Century.
It all began when Singer/ Guitarist turned Acid House promoter Duncan Elder AKA Du Kane teamed up with Keyboardist/Studio Tech Whizz Luke Baldry, and created a one-off Hendrix sampled house track that found its way to Eric Clapton. Eric initially wanted to release the track but on managerial advice generously passed it on to Alan Douglas, (who ironically had been looking for an "environment" for the sampling of Hendrix at that time.) Douglas gave the gig to Kane and Baldry, the boys decided to name the band after Kane's Acid House promotion company "Beautiful People" a name inspired by and attributed to author Ken Kesey and his team of 60's Merry Pranksters. The album was complete in July 1992 with live drums recorded by Robin Goodridge (later of BUSH fame) and first released in 1993 on Castle Communications Essential label with remixes by Killing Joke bassist and Legendary producer YOUTH (Pink Floyd, Verve, U2.) The album was generally well-received even if the idea of it did freak out some purists, but it proved to be a grower. The New York Post called it "An inspired bit of Grave Digging." In 94 Beautiful People toured Europe supporting HAWKWIND then on the personal request of Noel Gallagher toured the UK on the OASIS "Definitely Maybe" tour.
Read more with reviews here
Three CD's + DVD Paper parts, Signed and numbered certificate
Track listing
Album Beautiful People " If '60s Were 90's "
CD1 If 60s Were 90s (Fully Remastered album).
Comin' to Get You
Get Your Mind Together
If 60's Was 90's
Stone Crazy
Rilly Groovy
Happiness on The Wind
Sock It To Me
Feel The Heat
The Sea ...Eventually
CD2 If 60s Were 90s (Re-Mix album).
PM Dawn " If 60's Was 90's " Part Of Life Mix
Well Hung Parliament "Rilly Groovy" Remix
Ben Mitchell " If 60s Was 90's " 52 West 8th Mix
Vibe Sauce " If '60s Was 90's " Remix
Ripe " If '60s Was 90's" Remix
Ben Mitchell "If '60s Was 90's" Can-Can Mix 7 "Comin' To Get You" Beautiful People / Charlie "Take Ya Higher" Mix
" DIG ! " Beautiful People Ambient mix (Demo Outtakes)
PM DAWN " If '60s Was 90's" Radio Edit
CD3 If 60s Were 90s (Youth Re-Mix album).
Comin to get you Youth 7" Dub (4min 28 sec) 2.Comin to Get you YOUTH Ambient Mix (5 min 36sec) 3.Comin to get you Youth Mix (5min 6 sec) 4.Comin to get you Jimi's Magic Sparkler (10 min 37 sec)
Rilly Groovy Astralasia Experience
Rilly Groovy Astralasia Ambient Experience
Rilly Groovy Du Kane's Spunky Bizarre Trip
" The Experience" Beautiful People (demo out takes)
"DIG!" Guitar mix Beautiful People ( demo outtakes)