INDEPENDENT VENUE WEEK: SHAKSTER RECORDS!
The Kubricks + Bilk + ARIEL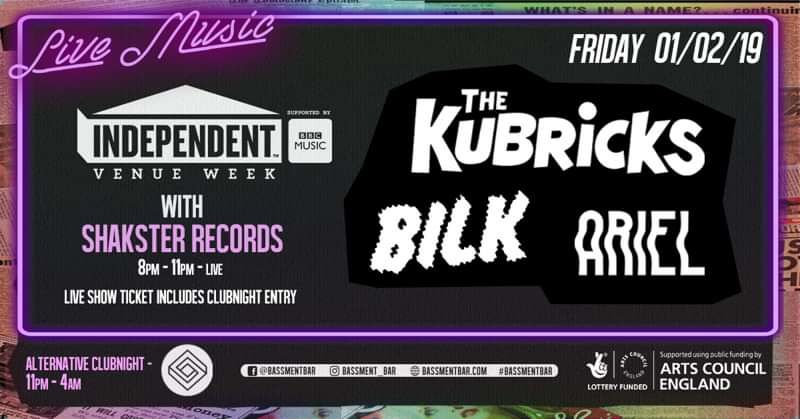 Shakster Recordsuk hosts a multi genre Independent Venue Week night as his final regular Friday night here at Bassment before taking up a new format...more to follow on that soon!
The Kubricks Hold on to your hats for another packed out affair, never a still body in the room when these guys play! "The Kubricks bring something surprisingly refreshing to the table. A gem of a band that makes ska and reggae seem like a perfect fit with 21st-century musical trends" "I can hear Madness, The Ruts, Squeeze and The Clash in there…" The Specials' bassist, Horace Panter
BILK Chaotic and full of youthful exuberance, BILK infuse scratchy guitar riffs, rap and punk. Frontman Sol Abrahams delivers his carefree attitude with a feroscious flow. Think Rat Boy, Devlin & early Jamie T!
ARI3L Spending her days alone, swimming in the freezing cold sea and walking the cliffs nearby, ARIEL armed herself with a laptop, microphone and a view of the Atlantic Ocean, writing and producing a collection of introspective pop songs. Already gaining glowing support from the likes of The Guardian, i-D, Dazed, The Fader, Beats1 and Spotify, and with her debut EP coming out in time for this show, the future looks bright!
https://www.facebook.com/ignoreariel/
** LIVE SHOW RUNS 8PM - 11PM **
After the live show, Bassment residents hit you right between the hips with some timeless dancefloor bangers! PRINCE // BOWIE // BOB MARLEY // RUN DMC // NIRVANA // BLUR // OASIS // JAMES BROWN // BLONDIE // KENDRICK LAMAR // DON BROCO // DR DRE // MADNESS // THE JAM...
8pm - 4am £5 adv tkts here, £8 otd (live show + clubnight): https://www.bassmentbar.com/events/a444b6e0-c64b-0136-a31b-0eec5e0be72d
£5 otd from 11pm (clubnight only)
18+
Line Up
After surfacing in 2013 with their debut EP, "Wasters & Wannabes", The Kubricks soon became one of the must-see ska bands of this generation. Tracks from their debut release were supported by Huey Morgan (6Music) and Tom Robinson (BBC Introducing – 6Music), and The Specials' bassist, Horace Panter championed the band, claiming "I can hear Madness, The Ruts, Squeeze and The Clash in there…" The timing was perfect, and coincided with a new interest in ska music, as many of UK's festivals began dedicating entire stages to the genre. Riding on the back of this wave, the band soon found themselves supporting legends such as UB40, Bad Manners and The Toasters, in addition to sharing the stage with The Skints, Buster Shuffle and Bombskare.
Produced by Toby Davies of Gentleman's Dub Club, the band's first album "The Heist" was released in 2017. The UK's longest-running skazine, Do The Dog, immediately commented that it was already, "A very strong contender for album of the year", whilst Bucketlist in Canada called it, "A gem of an album that makes ska and reggae seem like a perfect fit with 21st-century musical trends." Tom Robinson (6Music) immediately shared the track "Down With the Dogs" with his listeners, and BBC Introducing in Essex soon began supporting the album too.
The Kubricks have spent years developing their energetic live set, headlining their own shows and playing small and large festivals across the country. They have played to tens of thousands over the years with appearances at Wickerman (Scotland), Godiva, Bug Jam, Brownstock, The London International Ska Festival, Dance Ska La (France), Brentwood Festival and Boomtown Fair, amongst others.
The band are currently writing and recording their second album, set for release in 2019.
Find out more at (https://www.thekubricks.com/)
View Profile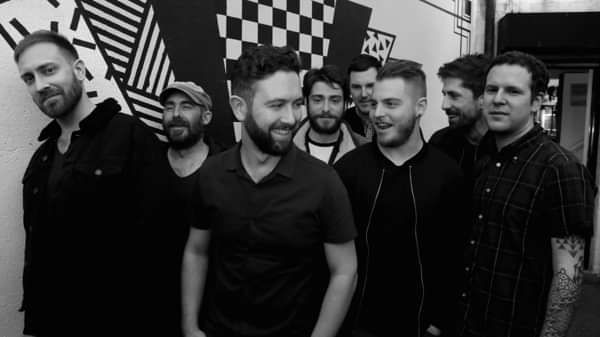 Bilk
I was Born In Hollywood,California and was raised in a musical family that had connections with the circus. I have always been surrounded by performers,musicians, ,dancers and acrobatics. When i got older I had my own band in La called 'THE PIRATES SIREN " We toured around the city and Las Vegas playing shows. I moved to London,England,Uk to become a solo artist focusing my creative visions and constructing Music videos for my songs,Music videos are a great platform for storytelling and inspiring the mind taking people somewhere else with the music and visual aspects . I also love incorporating set design and costumes with fantasy themes such as pirates,mermaids,sunken ships, faerie realms and other decorations for my stage shows . I am also a writer and a poet, having my book 'Enchanted Angel" published with my poetry. I have also written a Gothic Fantasy story which i am currantly creating a screenplay for to turn into a film. MUSIC IS my life and i enjoy bringing Magic to the stage . I have written a lot of songs mainly derived from my poetry . Like a Siren luring the audience into a mysterious rapture my music is electronica with poetic lyrics and i play the Keytar .... The 'ARIEL' EXPERIANCE .
View Profile