BFR presents:
Alexander Carson & Kitty Perrin (Co-headline)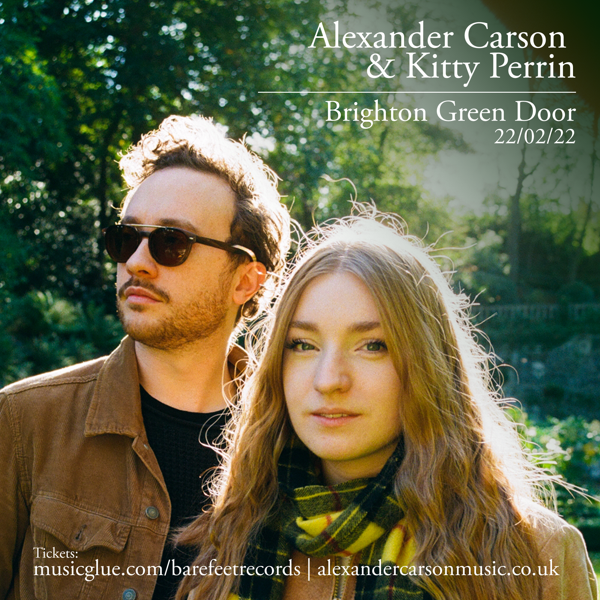 BFR are proud to present:
Alexander Carson & Kitty Perrin on their co-headline tour around the South/East of the UK.
Alexander Carson is a neoclassical, downtempo, composer and songwriter based in London UK. Carson spent the better part of 7 years as the lead singer, and songwriter for genre-fluid quintet Wooden Arms. His debut album "Ellipsism" came out on Diversion Records in April 2019. His follow up semi-improvised, instrumental album "Tombland" was released on the 21st of February 2020.
He's just finished recording his 3rd studio album with producer Fabian Prynn (4AD / D D Dumbo / Douglas Dare) and engineer Shuta Shinoda (Ghostpoet / Daughter / Hotchip) albeit vicariously during lockdown! And the first single from said album will come out Feb 11th
Kitty Perrin is a singer-songwriter based in Norwich, having recently relocated from Brighton for University. Through melancholy indie-pop, Kitty shares intimate and personal stories with her listeners, coloured by sharp and sometimes caustic lyrics.
Having been creating and performing music since the age of 11, Kitty's songwriting is mature and eloquent, dealing with topics such as love, family, friendship and even 'super-powers'. Her penmanship is reminiscent of Alternative-Indie legends – Elliott Smith, Nick Drake, Conor Oberst - and modern contempories such as Lucy Dacus, Waxahatchee, Julien Baker, and Christian Lee Hutson.
Quickly developing a name for herself in the East-Anglian music scene, Kitty is loved for her support of local, emerging talent and as a musician in her own right.
---
Support TBA
Tickets are £8 advance / £10 on the door
Doors open 7pm