BFR presents:
Sam coe + Vic Allen + Chad Mason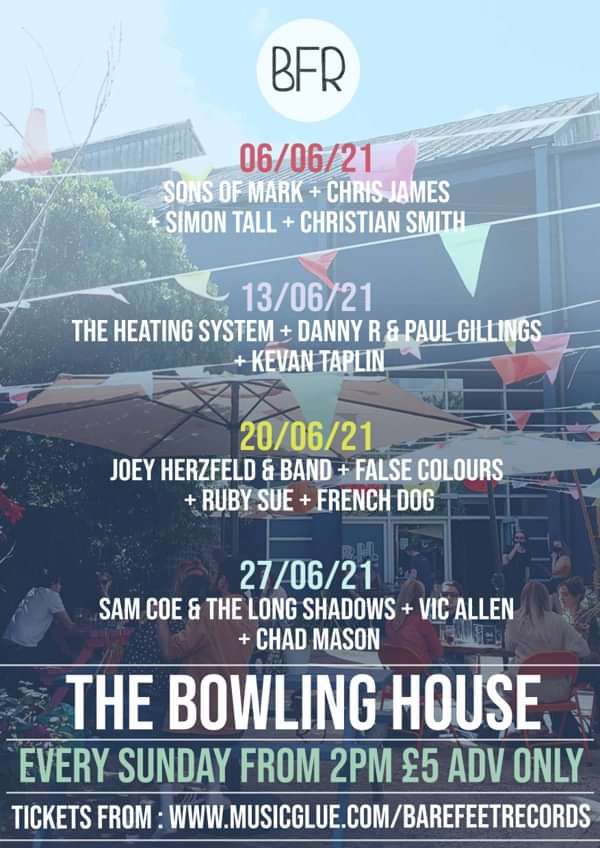 BFR are proud to present our weekly round-up of the best local acts to grace the Fine City.
Wind-down your weekend at Bowling House with great music, food and some drink!
Featured acts this week are: Sam Coe Vic Allen Chad Mason
Doors open at 1:30pm
We're committed to your safety so we're taking every precaution we can to make sure everyone can be socially distanced and enjoy the music. Please read all this info carefully before purchasing a ticket - BFR and Bowling House reserve the right to refuse entry to anyone not abiding by these guidelines:
The venue is fully socially distanced and each ticket is sold as either a solo ticket or a table (up to 4 people)
The event will take place outside in the Garden.
Food and drink will be available from an app specific to the venue.
All audience members will be asked to use the provided hand sanitizers on entry/exit of the building and wear a face mask. We will be wiping down tables regularly and all doors will remain open so less need to touch surfaces.
And we also ask that if you have ANY symptoms or a fever please do not attend the event - if you have purchased a ticket and start to feel unwell please email alex@barefeetrecords.co.uk and we will arrange a refund or ticket transfer.
Doors will open at 1:30pm and music will be begin at 2pm - no entry will be permitted after 2pm and when you buy a ticket we will advise your personal entry time so we can stagger arrivals to avoid any large queues.
TICKETS ARE ONLY AVAILABLE IN ADVANCE NO TICKETS WILL BE SOLD ON THE DOOR
We appreciate this long list of rules is really boring but we're trying our best to provide a space for live music in Norwich. We hope that these outdoor events continue to be an unmitigated success and we get to do more! But than can only happen with your support so please help spread the word about this event and get your tickets in advance as early as possible!