BFR presents:
Mega Emotion + Stephen Evens + Lady DI
Mega Emotion + Lady Di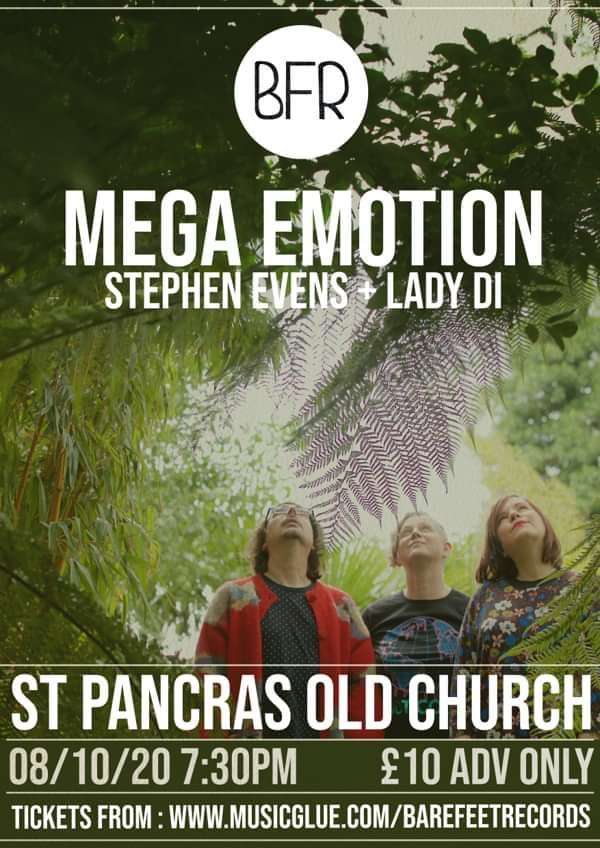 BFR are proud to present the album launch party for Norwich bands LADY DI and MEGA EMOTION upon the release of their split album: "I Know You Know I'm Perfect / Move, Motherf*cker" via Fake Feelings.
This very special—and quite literal—split vinyl release is the debut album from both bands. It might not be immediately apparent, given their disparate sounds and influences, but Mega Emotion and Lady Di are actually alter-egos; two very different bands made up of exactly the same personnel: Lisa Horton, Iain Ross and Jan Robertson, all former members of Norwich art-rock/indie pop outfit, Bearsuit (Fortuna Pop/Fantastic Plastic).
Mega Emotion are the robe-wearing cult that formed after an apocalypse failed. They build dense layers of sound that loop both live and electronic drums against synths and scuzzy guitars. They've won Steve Lamacq's roundtable, been playlisted across BBC 6Music and supported the likes of Acid Mothers Temple, Shonen Knife, Thumpers and Lonelady, comparing their sound to Metronomy, New Order, The Knife and Battles.
Stephen Evens He has spent most of his days touring here and there with minor indie celebrity. He has for now shunned the tourbus lifestyle for a wander through his own songbook for a change.
Lady Di, on the other hand, play grungy, dumb-ass punk, inspired by the likes of The Breeders, Urusei Yatsura and The Lemonheads.
---
Tickets are ONLY available in advance - no tickets will be sold on the door to control capacity and manage track and trace.
You can buy solo, duo (x2), and trio tickets (x3) which will all be socially distanced .
A licensed bar is provided so please don't bring your own alcohol to the church.
All audience members will be asked to use the provided hand sanitizers on entry/exit of the building.
We ask that audience members wear masks/face coverings throughout the performance and in the building.
And we also ask that if you have ANY symptoms or a fever please do not attend the event - if you have purchased a ticket and start to feel unwell please email alex@barefeetrecords.co.uk and we will arrange a refund or ticket transfer.
Doors will open at 7:30pm and music will be begin at 8:30pm - no entry will be permitted after 8:30pm and when you buy a ticket we will advise your personal entry time so we can stagger arrivals to avoid any large queues.
Line Up
BBC 6 Music Round Table winners Mega Emotion are two girls drumming over a sequenced beat. A guy screaming his guts up. "Part Pixies noise-fest, part 80s synth sunset" (The 405).
Norwich trio Mega Emotion is made up of Iain on guitar, Lisa and Jan on keyboards, all of them sing and play drums/percussion over electronic beats. Iain describes their sound as "an alternative soundtrack to the film Tron."
Since forming in late 2013, Mega Emotion have won Steve Lamacq's Roundtable on BBC 6 Music, seen their demo material 'BRAINS' play-listed as a 6 Music Recommends track of the week, and been championed on XFM and by BBC Introducing.
Live, they have played for John Kennedy's Remedy showcase in London, and supported the likes of Dan Croll, Thumpers, LoneLady and Yuck.
Their debut single Uncomfortable, was released on cassette by Post/Pop Records in 2015 – who have released cassette tracks by Everything Everything, Pulled Apart By Horses, Ash, Johnny Foreigner and We Are Scientists. Latest track OK MAYBE OK has been played on Radio X and BBC 6Music and championed by BBC Introducing.
"Brains starts like Blondie and soon becomes something different. Part Pixies noise-fest, part 80s synth sunset. I fucking love this song. It makes me want to rip out my shitty broken spine and flop around on a dance floor having fun." The 405 (single of the week)
"Mega Emotion aren't your standard synth-pop proposition. They may weave webs of slick electro beats that nod out to Blondie, but they also have a thing for excessive layers of noise." The Fly (names to watch)
"A tasty jellybean of guitar embellished, smart electro pop" The Music Fix (single of the week)
"Sounds like: A mad genetic experiment between Casiokids and Blondie." Click Music (track of the day)
View Profile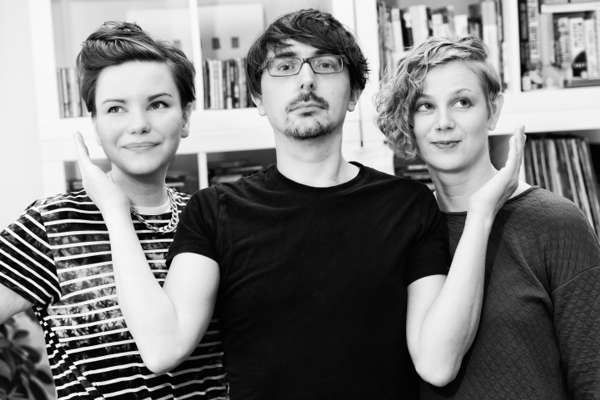 Lady Di