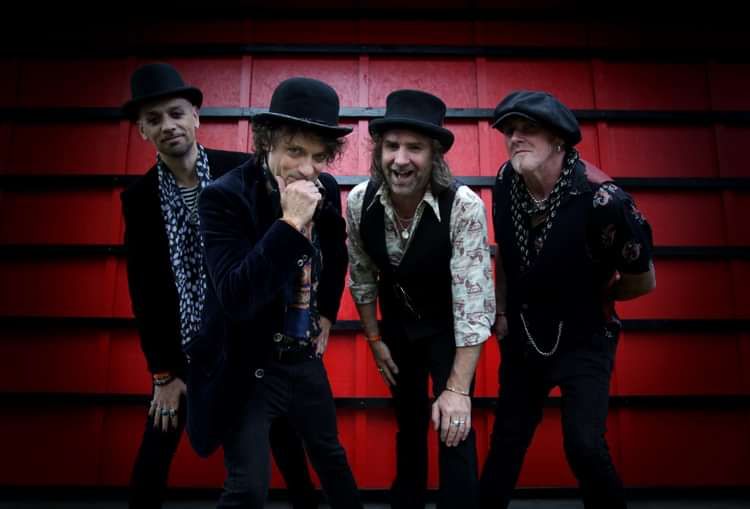 Audio Glasgow presents:
LAST GREAT DREAMERS + Powder Keg
£10.00
Entry Requirements: 18+
Buy Tickets
UK Glam -tinged Power-pop rockers Last Great Dreamers head out on a clutch of UK dates to promote the re-release & 25th Anniversary of their debut cult classic album Retrosexual.
Last Great Dreamers with their distinctly British take on power-pop built a formidable live reputation in the 90's with their shimmering glam style. Their debut album Retrosexual, a love letter to the early '70s glam scene, caught the media's attention resulting in award nomination for 'best new band' in Kerrang! Magazine before tragedy and disillusionment forced the band to call it a day. In 2014 they staged a fabulous comeback releasing album 'Crash Landing In Teenage Heaven' supported by a tour with Runaway's singer Cherie Currie in 2015 & in 2016 opening for the Darkness, Terrorvision, Hey Hello & Tigertailz & released 2 brand new singles 'Dope School', & 'Glitterball Apocalypse' both no.1s on the HRH radio chart.
2016 album Transmissions From Oblivion received rave reviews in Classic Rock & Vive Le Rock magazine. In 2017 LGD hit the road on a hugely successful UK tour with The Quireboys firmly cementing their reputation as a class live act also playing the Cambridge Rock & HRH Festivals in UK & Ibiza!
2018 saw the release of 4th album '13th Floor Renegades' to critical acclaim being described as "possibly the band's finest hour" & achieved a 9/10 review in Vive Le Rock magazine. They've relentlessly toured UK & Europe including many festivals & supports including The Alarm & Dan Baird.
In 2019 the band undertook their largest European tour visiting the UK, Spain, Italy, Sweden & Norway including support slots with USA's pop rockers Enuff Znuff, Sweden's Electric Boys & The Wildhearts.
Plans for 2020 include UK shows with punk legends The Boys plus headline shows in the UK, Spain, Italy & Scandinavia promoting their 25th Annivebrsary release of their debut Retrosexual.
Spotify: https://open.spotify.com/artist/07NukgOMZfAM9SPx01wQve Website: www.lastgreatdreamers.com Video: https://youtu.be/hLg9vTy_U0E Facebook: www.facebook.com/lastgreatdreamers
Special Guests are Glasgow sleaze rockers Powderkeg!
"Take a bit of Hanoi Rocks, add a sprinkling of Wildhearts and the energy of a Backyard Babies gig then top it with a hint of blues and a gutsy powerful lead vocal and you have a perfect mix to get the party started. Crack open the Jack Daniels I'll be round in five."
Neil Hodge, thegingerquiff.com
Tickets available from Tickets Scotland http://t-s.co/last6 & We Got Tickets https://www.wegottickets.com/event/494913