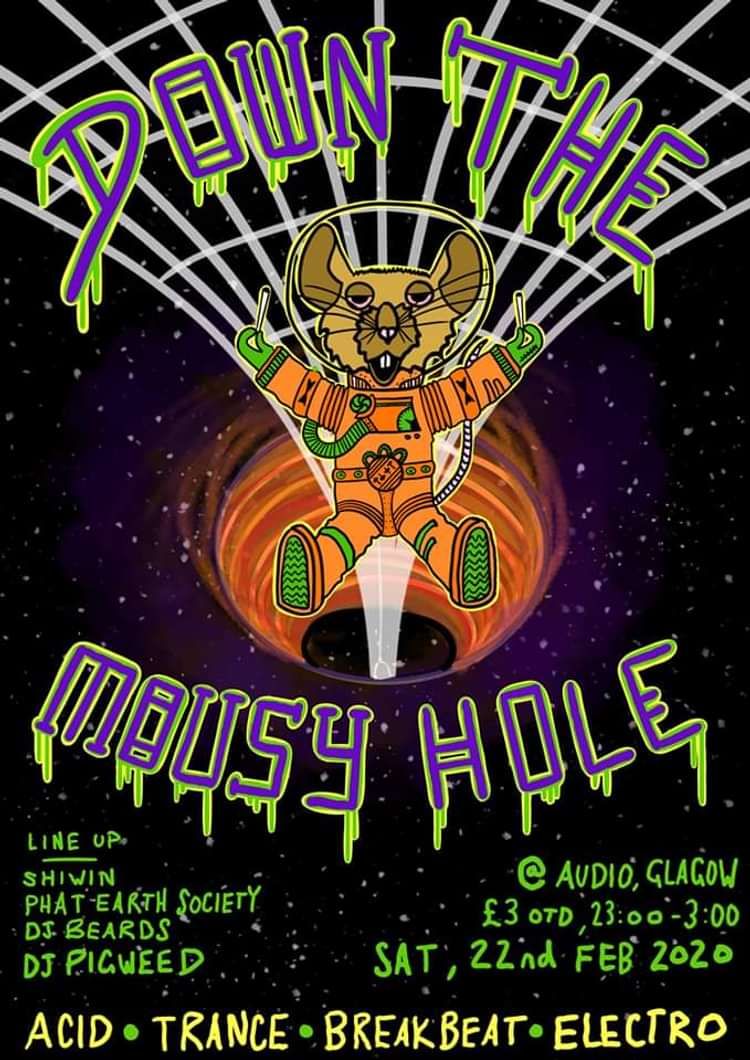 Audio Glasgow presents:
Down The Mousy Hole : Space Jam
£3 on the door
Entry Requirements: 18+ No ID No Entry Please Drink Responsibly. // Drinkaware.co.uk
ONCE AGAIN WE WELCOME YOU BACK DOWN 'THE MOUSY HOLE', THIS TIME TO GET SHITFACED IN THE STARS FOR A SPACE JAM YOU WONT FORGET. ASK AN ALIEN FOR THEIR MOON DUST GUY, SET PHASERS TO FUCKING PHAT TUNES AND GET YOUR MOON BOOTS DOWN TO AUDIO ON THE 22ND TO GET I N T E R G A L A T I C.
WE AIN'T COMPLETELY FORGETTING ABOUT OUR OWN PLANET THOUGH, KEEPING WITH THE "GREEN MOUSY PROJECT", WE'RE LAUNCHING 3 BRAND SPANKING NEW COTTON BLEND TSHIRTS, WHICH WILL BE FOR SALE FIRST AT THE EVENT.
AS FOR MUSIC, THIS TIME AROUND WE'RE COMING WITH THE COSMIC COMPOSITIONS, BLESSING YOUR LUGS WITH FINEST IN THE GALAXY FROM THE SOUNDS OF ACID, TRANCE, BREAKBEAT AND ELECTRO.
SHIWIN - HNS RESIDENT AND OVERALL INTER-DIMENSIONAL MADMAN WILL BE BLASTING OFF AND SETTING US ON A ONE WAY MISSION TO THE COMSOS.
PHAT EARTH SOCIETY - BASED IN STIRLING, HAILING STRAIGHT FROM KEPLER 443-B, THIS GROUP ARE FOCUSED ON THE PRESERVATION OF PHAT TUNES ON PLANET EARTH AND WILL STOP AT NOTHING FOR THEIR CAUSE.
DJ BEARDS - A MAN, A MARTIAN, A SEXY MF: DJ BEARDS IS MANY THINGS BUT THIS MOUSY RESIDENT CERTAINLY AINT NO LIGHTWEIGHT WHEN IT COMES TO THE BIG BANGERS.
DJ PIGWEED - WITH AN EXTENSIVE DISCOGRAPHY UNDER OTHER ALIAS SUCH AS EGGSHELL BOGLIN/MAMMON SWINK/IBEX, THIS DEEP SPACE DJ AND PRODUCER WILL BE SURE TO READ YOUR STAR SIGN AND TELL YOU YOU'RE A DICKHEAD FOR THINKING IT MEANS ANYTHING.
SEE YA THERE LOVE, Mousy x