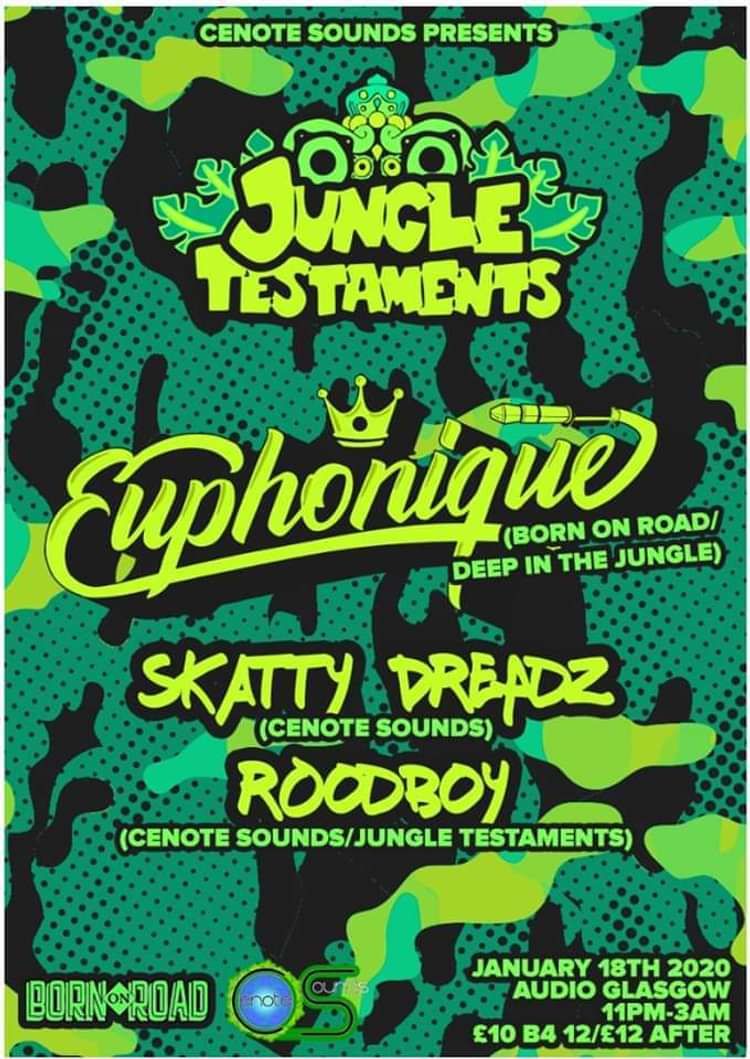 Audio Glasgow presents:
Jungle Testaments: Euphonique & Skatty Dreadz
£10
Entry Requirements: 18+ No ID No Entry Please Drink Responsibly. // Drinkaware.co.uk
Buy Tickets
We are back and into 2020 with a BANG!! Not only that it's our badboy resident Skatty Dreadz' birthday!!
EUPHONIQUE
We are pleased to announce that we have an up and coming legend on the scene! Euphonique!!! Euphonique has been smashing out the jungle vibes having been signed to Born on Road/Deep in the Jungle/Subwoofah she has gone from strength to strenth!! Having played a slamming set on the system at Solfest we are absolutely HYPED to have Euphonique grace the decks at Jungle Testaments!!
https://soundcloud.com/euphonique
SKATTY DREADZ
Also playing a wall to wall set on the night and celebrating his birthday in style!! Will be none other than our Skatty Dreadz!!! Skatty Dreadz has been smashing the scene with Cenote Sounds Crew for the past few years, having played festivals such as Knockengorroch and Audio Soup as well as a Bloc 2 Bloc slot & the 59th degree!! Expect deep n dark basslines with amens galore!!
https://soundcloud.com/skatty-dreadz
BIG VIBES ALL NIGHT!! POWERED BY THE SENSATIONAL CENOTE SOUNDS SYSTEM AUDIO GLASGOW 14 Midland Street Doors- 11-3 £10 b4 12/£12 after Please bring valid ID