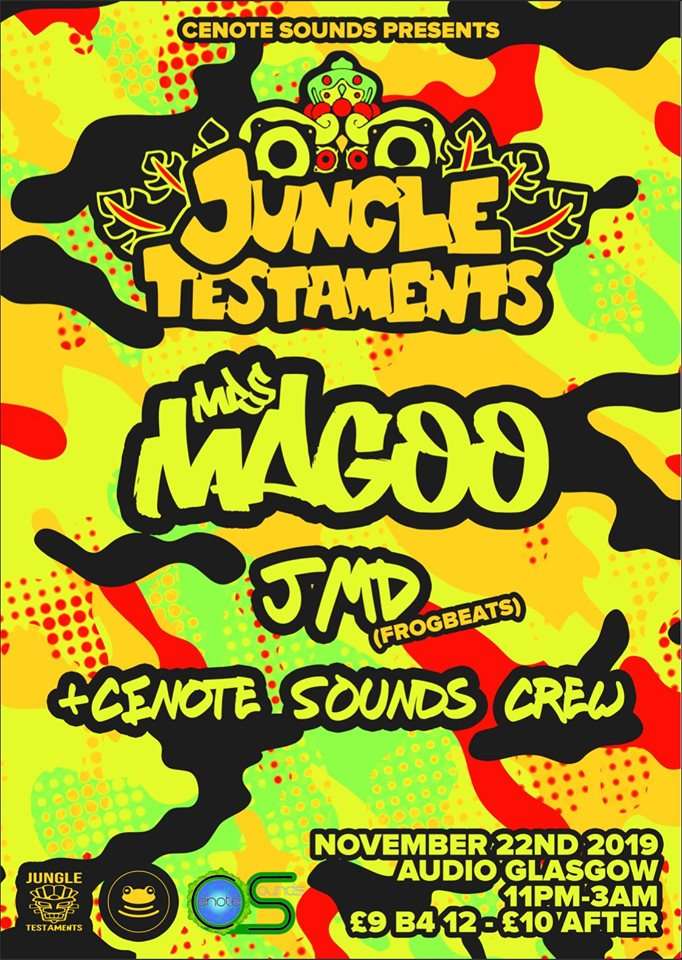 Audio Glasgow presents:
Jungle Testaments: MRS MAGOO & JMD (Frogbeats)
Jungle Testaments is back inna Drum n Bass style! This time we have none other than the queen of jungle herself- MRS MAGOO!! :D With support from the legendary JMD of Frogbeats Collective who are glasgow's party pioneers since 2011!! Be sure to come down and check out what is set to be an absolute BELTER of a night!! All powered by the BIG,BAD & HEAVY Cenote Sounds System!!
MRS MAGOO- Mrs Magoo (Jungle Splash, Deep in the Jungle, Unity, BBB, Roller Coaster, Origin UK, 59th Degree)
"Best Female DJ" – 2017 We Love Jungle Awards
With three nominations and one award for Best Female DJ at the We Love Jungle Awards, appearances with Kenny Ken on both Origin and Rough Tempo, monthly shows with Bellyman, dates lined up across the US and a tonne of b2b sets with pioneers of the genre such as Nicky Blackmarket and Garry K, things are working out well for Mrs Magoo.
Her unmistakeable sets, built on a foundation of smooth rolling dnb and crashing amens are liberally sprinkled with ragga and when combined with her impeccable style, both on and off the decks and her infectious energy it's easy to see how she's making a mark.
But it's been a journey getting to where she is.
Come 17 years old, she was hitting her first rave – Rebirth, and soon after that was getting her hands on a pair of 1210's, back then though… her sound of choice was happy hardcore. After a weekly internet radio show led to some bookings, Mrs Magoo found herself increasingly drawn to the sounds of jungle and dnb and by 2013 she was a certified junglist. That year saw her playing her first headline set at Jungle Nation in Aberdeen, one of Scotland's longest running jungle nights.
Joining Deep in the Jungle Records and residencies at Jungle Splash London, Unity Edinburgh, Roller Coaster Liverpool and BBB Wisconsin have helped her carve out a name for herself. She's now taken things full circle; from early days listening to mixtapes - to making her own, from a bright eyed young raver taking her first tentative steps into Rebirth, to headlining at the place where it all started.
Magoo's just beginning though, she's got big plans: her own line of merchandise, producing her own music and many more international bookings. She's one to keep an eye on.
Facebook - www.facebook.com/magoodnb Soundcloud - www.soundcloud.com/mrsmagoo Twitter - www.twitter.com/MrsMagoo_DnB Instagram - www.instagram.com/mrsmagoo_dnb
For bookings please contact mrsmagoodnb@gmail.com
J.M.D-
J.M.D considers himself lucky to have been around when jungle first emerged on the UK hardcore scene. But tracing Jamie's career back to his debut when he was 17, it's evident that the jungle scene is lucky to have J.M.D.
Throughout the illustrious lifetime of drum & bass, J.M.D has never been found far away from a breakbeat. From absorbing the raw sounds of 90s hardcore raves, today he plays out the breaks in Glasgow and beyond.
In 2013, along with Al The Kemist and Anikonik, he started the Junglism nights in Dundee. A scene that has grown to become a leader in UK D&B, culminating in the Mains Castle raves.
From hip-hop to liquid, Jamie has seen the breakbeat develop and moulded his mixing style accordingly. He taught himself to scratch after seeing the legendary DJ QBert compete in the DMC world DJ competition. Using this sound to work with some of the finest MCs in Scottish Hip-Hop.
He has experimented with and then mastered the arts of scratching, beat-juggling, turntable drumming, word play and three deck mixing using vinyl. These tricks he keeps behind the decks, ready to reveal and move a crowd's feet.
At the Frogbeats Unleash The Beast, Subclub night, J.M.D played a jungle set on three Technics turntables for the first time. He has made DJing on this pioneering set-up a habit.
The capacity for trickery attracted J.M.D to Hip-Hop and Jungle but he has played sets of every style of dance music imaginable, from US House and Garage to Belgian Techno and Rotterdam Gabba.
With an opening set from Cenote Sounds Crew to warm up the system for the night, you know this one is gonna go off!!! So don't miss out!! Doors-11pm-3am, £9 before 12/£10 after