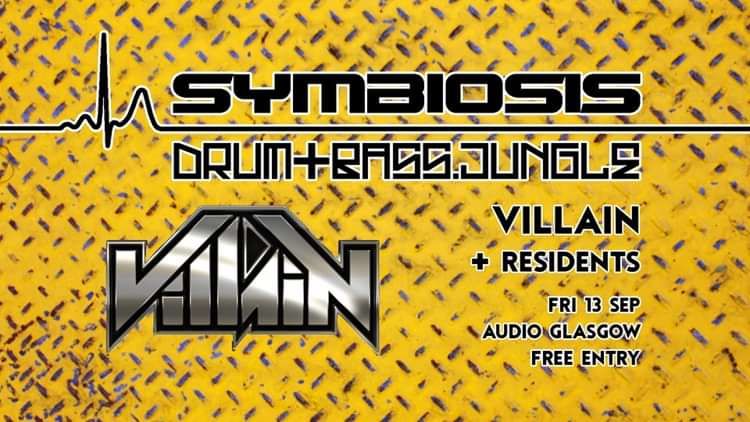 Audio Glasgow presents:
Symbiosis D&B: Villain [Southampton / On A Mission]
We've got a new name gracing the Symbiosis decks this month as Southampton-based VILLAIN lands for his Scottish debut!
// Villain //
With fifteen years experience behind the decks and appearances at Southampton institutions On A Mission and Paradox, plus appearances for the likes of Therapy Sessions and sets at Thailand's infamous Full Moon parties, Villain knows how to rock a crowd.
Having delivered an impressive mix for the Symbiosis podcast during his recent time in Scotland, we thought it was only right and proper to bring the man back up for an appearance at Symbiosis. Expect a blend of vintage and modern tech and neuro sounds with more than enough edge for the dancefloor.
https://www.facebook.com/DJVillainUK https://www.mixcloud.com/DJVillainUK
// Support //
Providing support on the night as always will be Symbiosis residents Yellowbenzene, Alcane, Hex & Calaco Jack who'll be warming up the dancefloor with a selection of fresh D&B business. Expect a mixture of brand new beats and classic anthems!
As always this event is completely free all night! Get down to Audio on Midland Street from 11.30pm - 3am.
https://soundcloud.com/symbiosis-glasgow https://www.mixcloud.com/SymbiosisGlasgow/