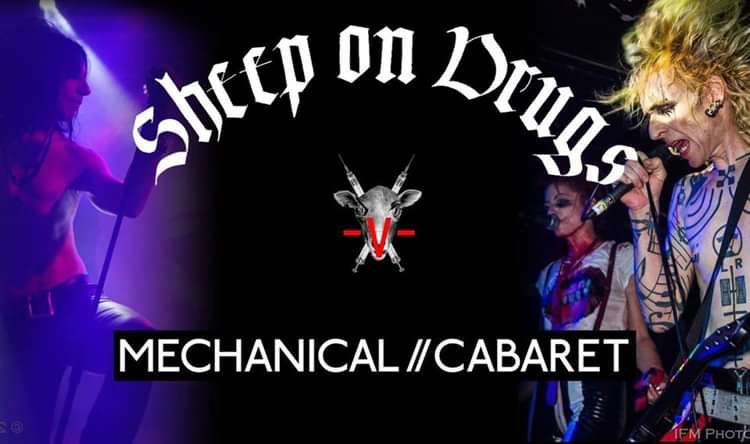 Audio Glasgow presents:
Sheep On Drugs vs Mechanical Cabaret
Buy Tickets
A double headline techno-industrial-rave-punk tour from these two long-standing purveyors of onstage disarray and mischief... (Plus supports TBC)
Tickets: https://tickets-scotland.com/shee3
SHEEP ON DRUGS are a British techno/Industrial music group, formed by Duncan X (a.k.a. King Duncan) (vocals) and Lee Fraser (a.k.a. Dead Lee) (guitar/keyboards) and currently composed of Fraser and Johnny Borden (vocals/keyboards). Originally classified as part of the rave movement, the duo emerged in the early 1990s with a string of singles, including "Motorbike," "15 Minutes of Fame" and "Track X" (later covered by Grace Jones as "Sex Drive"). "15 Minutes of Fame" reached the lower reaches of the UK Singles Chart as did "From A To H And Back Again". This tour is in support of Sheep On Drugs new vinyl LP album 'Does Dark Matter'. Out now on Bandcamp and available to buy on the tour.
MECHANICAL CABARET Emanating from an as yet un-gentrified Victorian back-alley of old London town, Mechanical Cabaret​ is the music, lyrics and voice of techno-punk front-man ​Roi Robertson​, together with synth-obsessed Stephen James Bellamy.
Roi and his Mechanical Cabaret have been entertaining and provoking audiences around Europe for two decades. As well as playing many headline and club shows of their own, they've also supported the likes of such influential musical luminaries as ​Fad Gadget, Nitzer Ebb, Suicide, DAF, Karl Bartos of Kraftwerk, The Damned, Sigue Sigue Sputnik, Frontline Assembly, The Young Gods, Client, T.Raumschmiere, Alien Sex Fiend, A Flock Of Seagulls, Clan Of Xymox, Mesh​, and more.
Founded in 1999, Mechanical Cabaret combine edgy, off-kilter melodies, throbbing bass, and downright filthy analogue synthesizer experiments, with a plethora of sampled found-sound, techno/electro beats and an energetic, post-industrial-pop sensibility. Coupled with Roi's deadpan baritone and sardonic lyrics, the resulting package is delivered with a healthy dose of, typically British, dark humour.
With the release of their new album '​Disarmingly Charming​' in September 2019, they've put out 9 albums as well as many singles/EPs to date. They've worked with several record labels along the way, but have chosen to self-release their material from now on, via their own label Zos Kia Records. September 2019 sees the band take to the road in the UK to promote their new album with this very special double-headline techno/industrial/electro-punk tour together with the always fantastic ​Sheep On Drugs​.
● Website ​http://www.mechanicalcabaret.com
● Facebook ​https://www.facebook.com/mechanicalcabaret/
● You Tube ​https://www.youtube.com/user/mcabaret2007/videos
● Bandcamp ​https://mechanicalcabaret.bandcamp.com/
Some reviews and opinions...
'Surly, savvy, viciously spikey synth-pop; really rather good' - Mixmag Magazine
'Mechanical cabaret are a riot of synth-punk sleaze... filthy grooves with grinding, rusty old analogue synth sounds... It comes across like a council estate version of Soft Cell.' - Rough Trade Records
'Roi is just about the greatest nutcase the English Rock scene have witnessed in the last 20 years' - Salem, © In Punk We Trust Inc.​ ​Fanzine
'An extravagant mix of 80's attitude with pulsating Electroclash... unusual synth pop' - Depeche Mode.de website
'​Superb, very British-sounding... mixes dark synthpop and electro with a unique approach to music-making that ultimately defies accurate labelling.' - Carl Jenkinson, ​ReGen Magazine
'​The new album from these hard working UK electro-punk stars sees the barbed black wit of Mechanical Cabaret in full effect, delivering infectious songs full of dark undercurrents, brooding synth lines and Electro-Glam synth-stomping dance floor beats.' - Metropolis online
'​Take a dash of Punk ethic, chuck in a substantial measure of odd pop glamour, a sprinkling of bleeping electronics and shake vigorously in the style of the late Fad Gadget and the resulting saucy cocktail is called Mechanical Cabaret... Mechanical Cabaret are not the ideal first date to take home to meet your Mum... a thrilling and passionate songwriter with a range beyond the reach of many of his contemporaries... the similarities with Depeche Mode's Martin Gore are startling... there's a lot more to Mechanical Cabaret than immediately meets the eye... The thumping bass synths and cracking higher melodies have all the qualities of early Mute 7" but there is a weightier sound to many of their tracks... ​ ​this is never at the expense of the characteristic Mechanical Cabaret style or wit... One suspects a proud Fad Gadget is looking down on Robertson with knowing affection.' - Rob Dyer, ​Dark Star Organisation/DSO.org
'​Dark synthpop with an edgy sound, though not necessarily "industrial". The vocals are dramatic, and the synths stand out as a sharp, dark element in the music. There seems to be a somewhat retro tint to the flavour of the songs, though Mechanical Cabaret definitely appeals to the modern audience, as if Gary Numan or Marc Almond were to push into a more danceable modern sound.' - A Different Drum, website
'I don't want to go to far in possible comparisons with Depeche Mode - but it remains a reference in the style - and Mechanical Cabaret brings a harder and definitely more brutal version of this kind of synth-pop... (though) Mechanical Cabaret will always remain a kind of alien in synth-pop land, this sounds original and well conceived' - Sideline website
'If Marilyn Manson deals in arousal, Mechanical Cabaret are pure penetration' - Vision Thing website