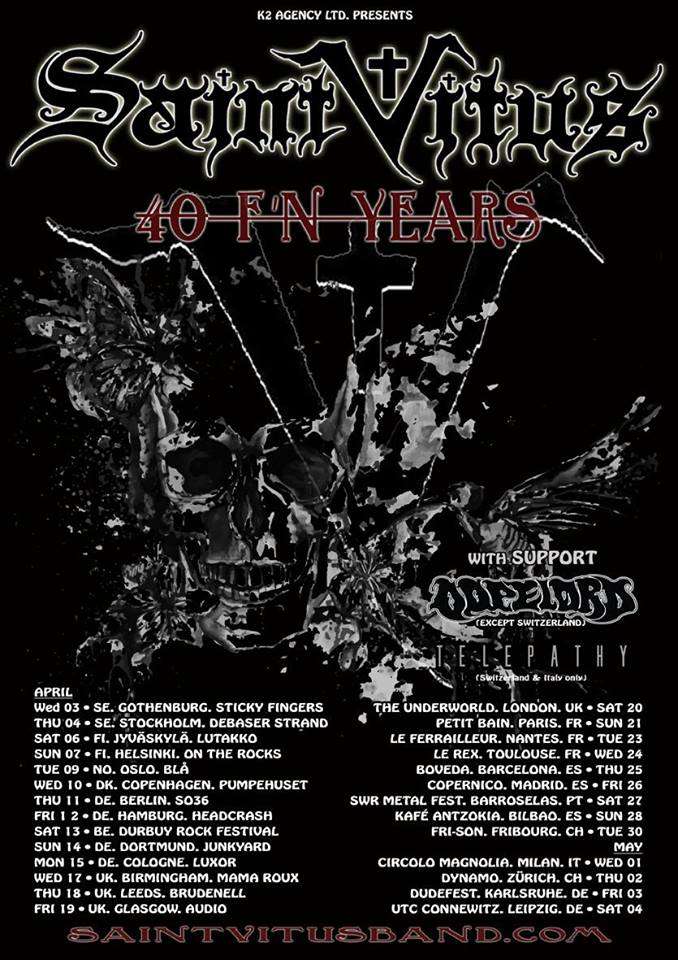 Audio Glasgow presents:
Saint Vitus & Dopelord
Buy Tickets
Saint Vitus celebrating 40 f'n years
PLUS SUPPORT FROM Dopelord
19th April 2019 Audio Glasgow | 14 Midland St | G1 4PP
Tickets on sale now from:
https://tickets-scotland.com//events.html?event_method=viewevent&event_id=c3085346-f18b-11e8-9211-22000b754a1f
---
Saint Vitus Four decades since their formation, kings of the underground, Saint Vitus, are still going strong. Responsible for iconic records of the doom scene, such as their self-titled debut and Born Too Late, the L.A. based slow moving freight train of riffs can't be stopped - even after a decade long hiatus, the band couldn't be kept down.
Prior to 2015, many of us thought we were born too late to see Saint Vitus on stage with their original vocalist Scott Reagers, but it was always too exciting a prospect not to happen again. Joined by fellow surviving member from the band's original line-up, Dave Chandler (guitar) as well as Pat Bruders (bass) and Henry Vasquez (drums), Saint Vitus are a rejuvenated band marching forward with purpose; as anyone who caught their slot at Desertfest 2017 can attest to. One of the pillars of doom, Saint Vitus are a must see for any fan of low and slow heaviness.
http://www.saintvitusband.com https://youtu.be/r_xg_05NBlE
Dopelord Poland's Dopelord have been flying the flag for the modern era of doom since 2010.Releasing three stellar full-lengths - Magick Rites, their follow up Black Arts, Riff Worship & Weed Cult and 2017's Children of the Haze respectively - Dopelord have consistently been one of the most exciting bands in the scene.
https://dopelord.bandcamp.com/ https://www.youtube.com/watch?v=5rV4YXgqnVE