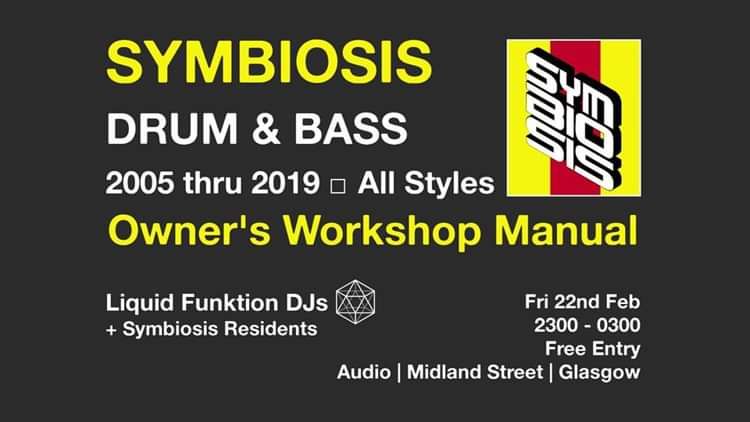 Audio Glasgow presents:
Symbiosis Invites: Liquid Funktion
Edinburgh crew in the building for our second event of the year as the LIQUID FUNKTION residents join us on the Symbiosis decks!
// Liquid Funktion //
Liquid Funktion is just about to celebrate its third birthday and in those three short years the night has established a firm reputation for bringing the best of local and international talent to the capital. The resident selectors have a proven track record in their own right for throwing down the full spectrum of the Drum & Bass sound at parties all over Scotland.
They have hosted the likes of Whiney, LSB, Spectrasoul and Break, collaborated with Roots, Frogbeats and Electrikal Sound System and they have also been regular fixtures at Midnight Bass and the Woodland Dance Project. Expect rolling party vibes from Scavenger and BC as they bring back to back fire for our guest set!
https://soundcloud.com/liquidfunktiondnb/ https://www.mixcloud.com/LiquidFunktionDNB/ https://soundcloud.com/djscavengeruk https://www.mixcloud.com/DJScavenger/ https://soundcloud.com/jbcuk https://www.mixcloud.com/jbcuk/
// Support //
Providing support on the night as always will be Symbiosis residents Yellowbenzene, Alcane, Hex & Calaco Jack who'll be warming up the dancefloor with a selection of fresh D&B business. Expect a mixture of brand new beats and classic anthems!
As always this event is completely free all night! Get down to Audio on Midland Street from 11pm - 3am.
https://soundcloud.com/symbiosis-glasgow https://www.mixcloud.com/SymbiosisGlasgow/