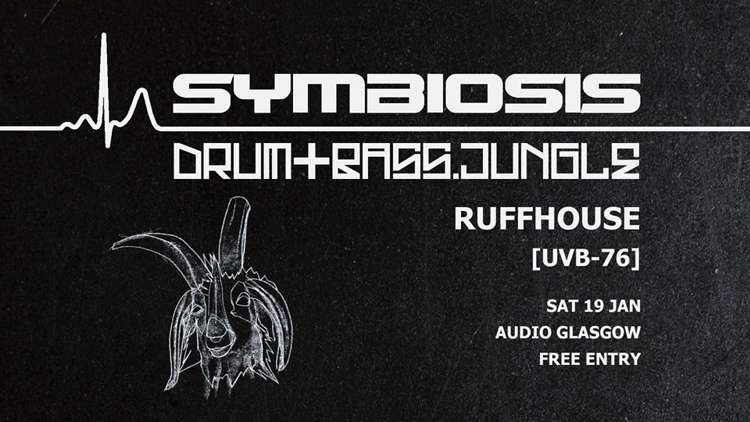 Audio Glasgow presents:
Symbiosis Invites: Ruffhouse (UVB-76)
We've got something very special lined up for our first event of 2019 as we welcome a true scene legend to the Symbiosis decks - representing RUFFHOUSE and UVB-76 we're pleased to welcome VEGA to the Symbiosis decks!
// Ruffhouse //
Conceived and instigated in 2012, Ruffhouse is the production coalition of Vega, Pessimist and Cooper. Initially heralded as the next Drum & Bass super group, Ruffhouse have asserted their own prophecy, drawing heavily on Drum & Bass' sonic lore while innovating with technical grace.
Alongside Gremlinz, Ruffhouse are founding members of UVB-76 Music and absolute key architects behind the imprints growth. Exemplifying a broad range of influences Ruffhouse draw upon Drum & Bass, Techno and a full range of underground dynamics across all mediums.
https://soundcloud.com/ruffhousebs6 https://soundcloud.com/uvb76music
// Vega //
One of the creative minds behind Bristol's Abrstractions events since 2009, Vega is one of the founding members of UVB-76 Music, Ruffhouse and 4 6 2 5. His encyclopaedic knowledge of the genre is second to none and can be observed through his genre defying DJ sets. Performing much like a Techno DJ, Vega creates a dialogue between Drum & Bass across several Chronologies while making excursions into Techno and Ambient music.
Vega is the guiding A&R force behind UVB-76 Music, his vision has seen the labels achievements acknowledged by Resident Advisor, DJ Mag, Mixmag and BBC Radio 1 amongst many other international formats. As a DJ he continues to take the UVB-76 sound worldwide.
// Support //
Providing support on the night as always will be Symbiosis residents Yellowbenzene, Alcane, Hex & Calaco Jack who'll be warming up the dancefloor with a selection of fresh D&B business. Expect a mixture of brand new beats and classic anthems!
As always this event is completely free all night! Get down to Audio on Midland Street from 11pm - 3am.
https://soundcloud.com/symbiosis-glasgow https://www.mixcloud.com/SymbiosisGlasgow/