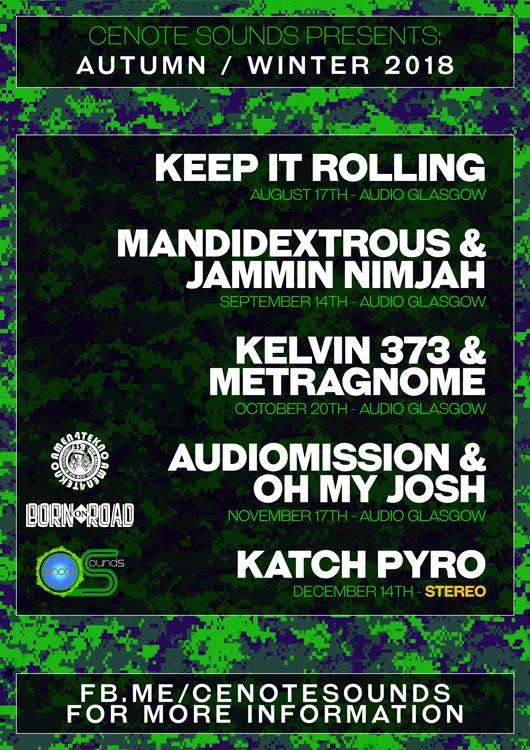 Audio Glasgow presents:
Jungle Testaments: Kelvin 373 & Metragnome
We're back and for this Jungle Testament we have KELVIN 373 & METRAGNOME!!! The last time Kelvin 373 was due to play on our system, we had an amplifier catch FIRE before the show!!! SO we thought it only right to bring the absolute legend and amazing dude back to play on our rig with NEW HIGH SPEC amplification!!
KELVIN 373: Kelvin 373 aka Kelvin Wright began his musical career from an early age, and has been hugely influenced by the underground free party movement and grew up attending and performing at some of the biggest festivals and events across the UK and Europe.
Residing in Bristol kelvin has quickly established himself as a popular name on the uk underground circuit. And frequently works as tour DJ for Dubwise & Hip Hop artists such as Gardna, Buggsy, Eva Lazarus and Lady Leshurr.
When it comes to the music kelvin co runs his own label Born On Road. And has a distinct reggae/dancehall influence While still managing to remain eclectic with a mix of genres and BPM's. He has current releases on a diverse range of labels such as Chopstick Dubplate, Necessary Mayhem, Born On Road, Joker Records, Subslayers and BBL recordings. With a bag of dubplates to make any sound shake kelvin has been recording and remixing artists like David Boomah, Navigator Mc, Solo Banton, Jam Baxter, Dabbla, Parly B, The Drop, Bahia, Lion Art, Buggsy, Dirty Dike, Serocee, & Gardna.
In short Kelvin has established himself as one of the most exciting prospects on the underground scene right now. https://soundcloud.com/kelvin-373
METRAGNOME: Owen started life on a very small Sheep farm in Orkney where the only music available was on his wind up radio which he recorded using his Fisher Price tape player, creating radio shows by talking between the tracks. Later in school Owen DJ'ed for school dances and private parties under the Dj name 'Semtex'.
In the last 8 years since returning from NZ Owen has been DJing and running radio stations as host starting with a 3 year running 'Back To Bassics' show while at University, only finishing after leaving for a year In Thailand. Playing over there nearly every weekend at a range of venues from secret beach parties to local clubs, on his return and after recovering from a serious medical episode he launched 'The 59th Degree' Live Stream service, booking a new local artist every Thursday and running live streamed events across country including recently in Dublin and Amsterdam. Names who have appeared included to name a few Brian BrainStorm, Mr Multiplex, Mrs Magoo and Pulls Up Collective along side 50+ local artists.
At the same time MetraGnome's skill behind the decks has made vast improvements in the last few years and particularly the last year after starting the radio station, supporting Royal T, Flowdan, Kurupt FM, Kilent, Barely Legal and Brian BrainStorm just to name a few. With summer bookings including 9 festival dates and 4 international appearances (Uganda, Dublin, Amsterdam, Utrecht) alongside a huge number of live streams 2017 was a big year for MetraGnome. 2018 is set to break all the records with bookings and streams planned so watch this space. https://www.facebook.com/DJMetraGnome/
With Support from Cenote Sounds Crew ya know it's set to be a belter!! Plus it's Roodboy's Birthday Shenanigans so it will probably be quite silly!!
AUDIO GLASGOW 23.00-03.00 £8 before 12/£9 after