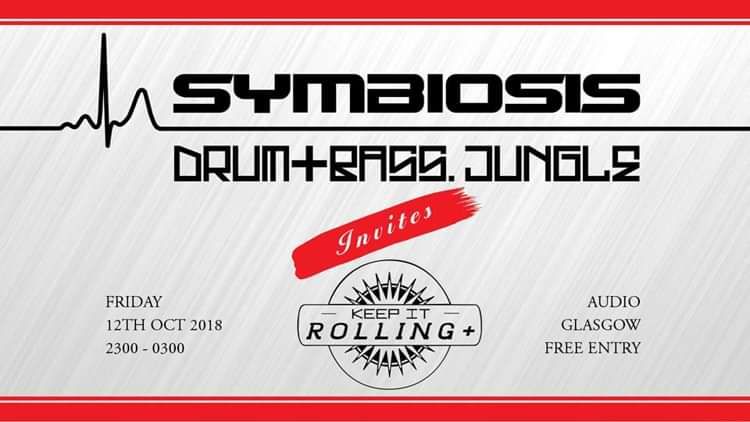 Audio Glasgow presents:
Symbiosis Invites Keep It Rolling
Symbiosis returns to Audio after the summer break and we're extremely pleased to have one of our favourite local crews joining us in the dance!
// Keep It Rolling //
Started in 2016 as an outlet for Jungle, D&B, Garage, Dubstep and all things bass, Keep It Rolling have fast established themselves as one of Glasgow's finest party crews. The trio of Phonik, Clippa and Spook have carved a solid rep as versatile selectors, and anyone who has attended their parties at Flat 0/1 or seen their appearances at Frogbeats, Junglism and Cenote Sounds will know they throw down with the best of them! Expect a mixture of up front rhythms crossing the 170BPM spectrum.
https://soundcloud.com/kirgla https://soundcloud.com/clippa-uk https://soundcloud.com/spookglasgow https://soundcloud.com/phonikdnb
// Support //
Providing support on the night as always will be Symbiosis residents Alcane, Yellowbenzene, Hex & Calaco Jack who'll be warming up the dancefloor with a selection of fresh D&B business. Expect a mixture of brand new beats and classic anthems!
As always this event is completely free all night! Get down to Audio on Midland Street from 11pm - 3am.
https://soundcloud.com/symbiosis-glasgow https://www.mixcloud.com/SymbiosisGlasgow/