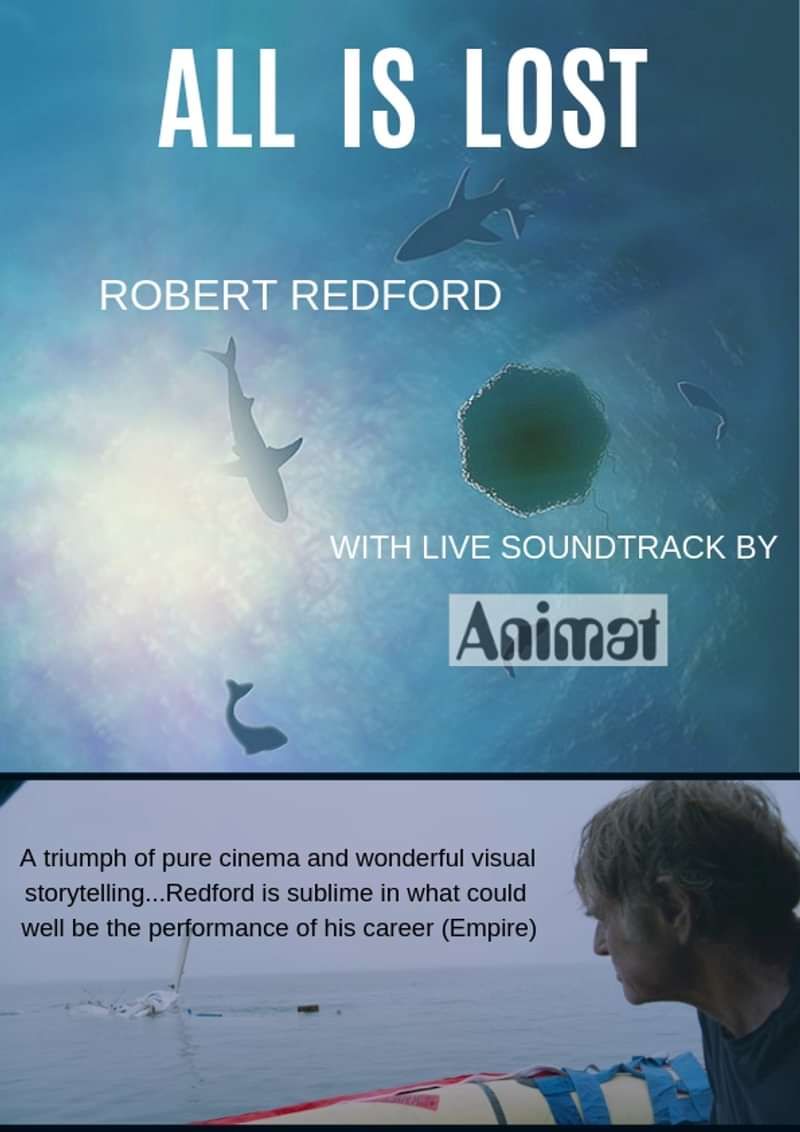 Animat - album launch and live soundtrack to 'All Is Lost' + Banco de Gaia DJ set
Banco de Gaia
7.00
Entry Requirements: None
All Is Lost' is a 2013 survival drama film written and directed by J. C. Chandor, starring Robert Redford as a man lost at sea. Redford is the only cast member and was nominated for a Golden Globe as well as winning the New York Film Critics Circle Award for Best Actor.
In the Indian Ocean, a man wakes to find water flooding his boat. He has collided with a wayward shipping container, ripping a hole in the hull. The boat's navigational and communications systems have been damaged by saltwater. Then a tropical storm throws him overboard, capsizing the boat and destroying the remaining equipment. With the boat sinking, the man abandons ship in an inflatable life raft, salvaging whatever he can to survive...
Sheffield based cinematic soundtrackers Animat have composed and produced a new soundtrack which uses elements from the film's sound effects track in combination with their trademark dub-infused ambient electronica.
'A triumph of pure cinema and wonderful visual storytelling from Chandor, who must now be considered the real deal, while Redford is sublime in what could well be the performance of his career' (Empire)
Line Up
Banco De Gaia has been performing and releasing for over 25 years now, along the way becoming one of the music industry's most maverick innovators. His legacy is as glittering as it is diverse, ranging from Hollywood film sound credits to the critically acclaimed 'Last Train to Lhasa', first released in 1995 to a rapturous reception. His live act still packs out venues and festivals all over the world, with audio-visual performances renowned for their explosive, cutting edge quality: from sampling wizardry fused with haunting vocals and poignant acoustics to genre-hopping musical instrumentals, all accompanied by socially engaged visuals.
Behind Banco de Gaia is artist Toby Marks. Starting out as a drummer in a metal band, he began using sampling kit to cut his own tunes after falling in love with electronica during the 1980s acid house era. By the early 90s, after winning respect for a clutch of credits on the Ambient Dub compilations, he was signed to Planet Dog Records and released 'Maya', in 1994, and then 'Last Train to Lhasa', in 1995.
Both albums featured an artfully arranged cocktail of textured samples and live instrumentals lifted from across the world. Both went straight to No. 1 in the UK Independent Charts as well as sweeping through the international electronica scene, making him, along with the likes of The Orb, one of the early pioneers of 'chill out'. Both Last Train To Lhasa and Heliopolis (Eedupolis Dog Mix) notably featured on Sasha & Digweed's classic Northern Exposure mix CD (now scheduled to be re-released by Ministry of Sound) among myriad other compilations.
Since then, he's released a further 6 studio albums, 1 live album, 1 live DVD and 15 EP's and also runs his own label, Disco Gecko Recordings. He went back to basics in 2014 with a sold-out 20th anniversary CD-only (no streams or downloads available) release of Maya, followed by Last Train To Lhasa's 20th Anniversary release flying off the shelves in 2015.
Pink Floyd and psychedelia remain a constant influence: Banco's cover of Echoes in 2007 helped shape the Memories, Dreams, Reflections collection in 2009. Pink Floyd's legendary Dick Parry is one of Marks' special guest collaborators on the new album, alongside No-Man's Tim Bowness and Zero 7's Sophie Barker (who also toured as Banco de Gaia's live support in March).
Collaborations such as these only add to Banco de Gaia's enduring, contemporary appeal and with new album 'The 9th of Nine Hearts' being released in October, it's become clear that Toby Marks, legendary trail-blazer of hybrid electronica, is here to stay.
Sample video: https://www.youtube.com/watch?v=B5nZRNBhbyo