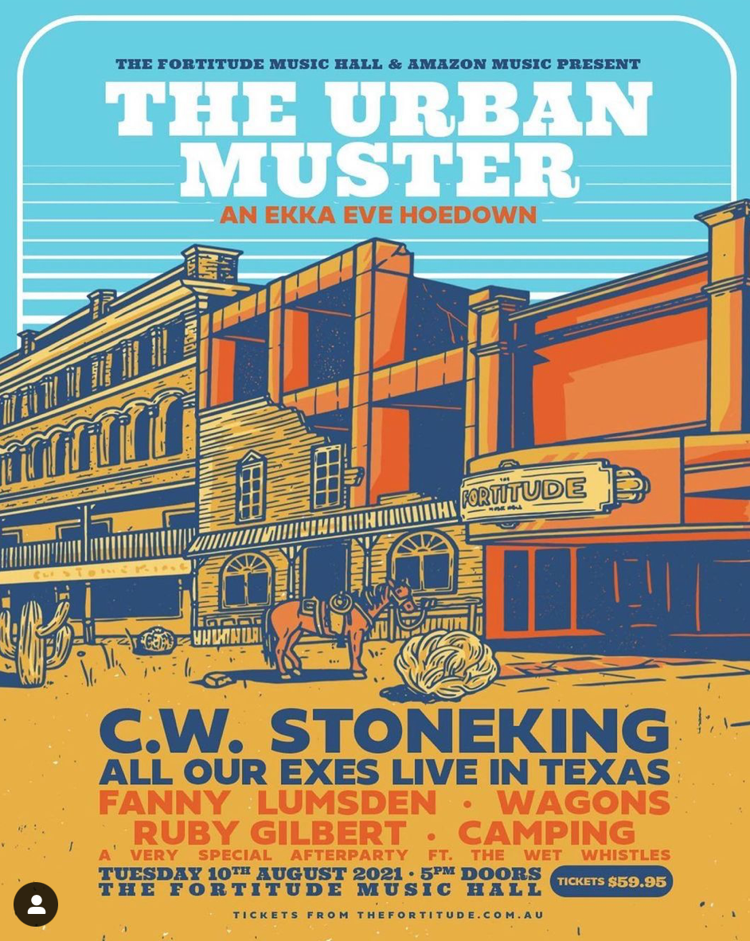 The Urban Muster - An Ekka Eve Hoedown
All Our Exes Live In Texas + Fanny Lumsden + C.W. Stoneking + Wagons
Buy Tickets
Giddy up Brisbane! It's almost time to welcome Ekka back to town. To celebrate the public holiday eve; The Fortitude Music Hall is hosting a line-up that boasts four ARIAs, five Golden Guitars and six AIR awards.
Truly the hoedown of the year, Urban Muster features an impressive cross-section of blues, country, folk & Americana. Across two stages, expect collaborations, cowboy hats, and a mechanical bull – yeehaw.
Leading the lineup is bluesy banjo slinger and expert storyteller C.W. Stoneking, returning to Brisbane with his genre-bending blend of everything from 1920s pre-war blues to hokum, country and jazz – expect the unexpected. Joining him are Sydney's All Our Exes Live In Texas. Drawing comparisons to artists as varied as First Aid Kit and The Waifs, these four harmonising heroes will have heels clicking and boots scootin'. Crooners and country chaunteuses Fanny Lumsden, Wagons, Ruby Gilbert and Camping are also jumping on board to provide the evening's soundtrack.
The party doesn't stop at the final chord. Everyone is invited to the official afterparty upstairs at The Outpost featuring The Wet Whistles and drink specials all night to really whet that whistle till the cows come home.
Line Up
All Our Exes Live In Texas
Fanny Lumsden
For a lass that can shoot a gun, ride a horse and write songs while driving a tractor, Fanny Lumsden is the genuine article. With her impeccable voice and timeless skill for song-writing, Fanny and her stellar band the Thrillseekers deliver a 'kick-arse country hoedown' that will charm your socks off. A merry mixture of alt-country, folk and pop, their live show is a toe-tapping-knee-slapping-roof-raising affair that sees their audiences leaving their cool by the door and getting up off their chairs and having some good old fashioned fun.
C.W. Stoneking
C.W. Stoneking is the embodiment of what some would say is a bygone era of music. From his rasping jungle-rock-blues, to his well-oiled locks, and his familiar all white clothing ensemble, he has converted fans across the world to his unique style.
A first generation Australian of American-descent, C.W. Stoneking was born in the top end of Australia's Northern Territory and spent his childhood growing up in Central Australia, Sydney and rural Victoria. He has travelled the world from Egypt to New Orleans (where he worked as a hoodoo doctor's assistant) to Trinidad, where he learned about Calypso music. He has lived in isolated farmhouses working as a handyman, and been involved in and survived a shipwreck, spending time in Africa, and touring internationally as a recording artist.
After spending the past half of a decade stamping his inimitable stylings across the UK and Europe, C.W. Stoneking once again settled down in the Northern Victorian countryside to record his latest release, Gon' Boogaloo. Far from the sepia toned tales of marooned adventures in the tropics of his last release, Jungle Blues, C.W. entered into the world of electricity – replacing his much-loved Banjo with a shiny gold Fender.
Released to critical acclaim in May 2015, Gon' Boogaloo has seen C.W. embark on multiple jaunts across Australia and Europe with his delightful band in tow, including singers Vika & Linda Bull stepping in as backing vocalists. He's set a pace that is not looking like it will slow down any time soon, as C.W. continues to entertain and delight crowds of all ages.
"Oozes energy, chemistry and a wild imagination. Its thoroughly charming." The Australian
"Immaculate, old-world musicianship." Rolling Stone