The Whole World Window Festival for Tim Smith
ALL HAIL HYENA!
Buy Tickets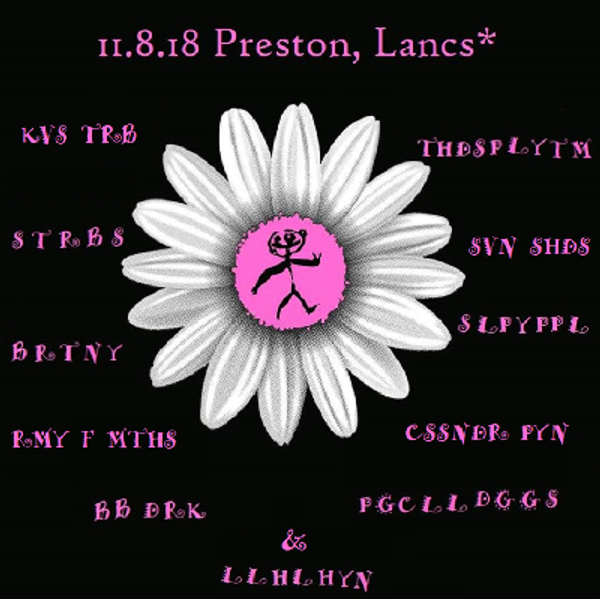 A festival to celebrate and raise Tim Smith funds for his on going care. The wonderful CARDIACS have blessed us with some majestic music, and the main man needs a little help on his quest to get better. All profits from this festival will go directly to Tim and his cause.
Many bands and artists are getting involved, and full details will be drip fed over the coming months as they are confirmed.
So far, I can confirm SLEEPY PEOPLE, STERBUS, THE DISPLAY TEAM, A PIG CALLED EGGS, 7SHADES, ALL HAIL HYENA, KAVUS TORABI, ARMY of MOTHS, RoBoTaLiEn, CASSANDRA PAYNE, MOON AHSA and BOB DRAKE are performing.
This event will be updated accordingly, and you will find updates on the CARDIACS facebook page
There will be exclusive merch at the show, and a record made with contributions of all bands playing and a few other surprises
Line Up
ALL HAIL HYENA are a postpunkmathrockgaragemetal trio from the North of England making unusual, exciting and foot stomping music for freakz. Live shows are a spectacle and they glow like 80's UV revivalists on stage as they blast out their frenetic, post-punk rock. Compared to artists like Cage The Elephant, Shellac, Rage Against The Machine and The Beatles they have supported Grandaddy, Ultrasound and their eclectic sound has no match and they win over new crowds wherever they take their stage show. Worthy of any cool event hands down.
They also helped to raise over £3000 for Cardiacs' Tim Smith at the benefit show The Whole World Window in Preston where they performed with BRITNEY, Scaramanga Six, Trojan Horse, and Sweet Deals on Surgery amongst many other artists. They have also supported the wild American Bob Drake on his tour of Europe.
They blast out well-crafted frenetic psych-pop frenzies, intersected with melodic brilliance, punctuated by attitude and melting into rapture. A seething mass of unpredictability which will leave your brain reeling like a fish on a hook. Their tunes are fresh, energetic and object to convention.
Mesmerising live shows, jaw dropping visuals' and once witnessed, the viewer knows that they 'have been Hyena'd'
Astounding and clever key changes and riffs supported by a thumping and rhythmic bass and seismic drums from a 3 piece with attitude.
Their most recent EP 'S T I C K € R S' was recorded at The Grand Studios, Clitheroe and engineered by Tom Peters from Alpha Male Tea Party.
Videos:
MAN UP: https://www.youtube.com/watch?v=8japd834REk
WAY HO: https://www.youtube.com/watch?v=A8HttakguCY
SABBATHTIAN: https://youtu.be/MN7cenKHkOg
BUZZ "All Hail Hyena ! - Magnificent new tune and video now up for Sabbathtian - AHH provide a welcome fusion of post-punk, prog and intelli-rock - the guitar and bass lock-in is infinitely infectious, disciplined but somehow still rowdy as it appears to cross more dimensions than Dr Who on a Saturday night. Splice in the juddering rhythms and more of AHH's engaging off kilter structures and it's perfect for the vocals to tag along in unison to those hook infected mathematical riffs. Top that with a blisteringly awesome video - only one result really - winner !" - Manchestermusic.co.uk 5/5
"All Hail Hyena bring you backs-to-the-wall, balls-to-the-floor, no nonsense sounds to make your blood simmer and your dancing feet wiggle into a compulsive pogo frenzy." -** LOUDER THAN WAR 8/10**
"It's all creatively composed, each song darting off on its own wild trajectory but always remaining terse and tuneful." - *MUSIC RELATED JUNK 4/5 *
"First time I'd seen these lads, wasn't sure what to expect.......and if only I'd know what to expect! This three piece have a look, a performance I've not seen for sometime, was kind of a wow moment....it's fresh. The tunes are full of energy and well crafted. Must see these as soon as you can......"foxy recommends 5/5
CONTACT // Web: allhailhyena.net // Twitter: @allhailhyena // Email: enquiries@allhailhyena.net // Tel: +44 (0)7525 271 360
View Profile